Problem Viewing This Email? View It Online.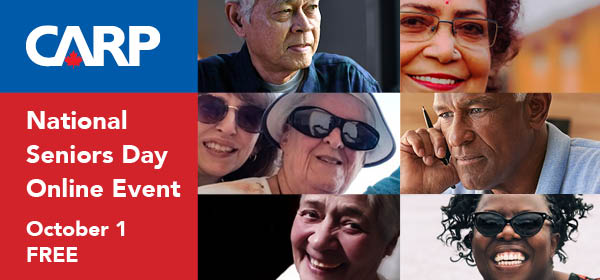 Join the largest-ever virtual meeting of seniors on National Seniors Day.

Only 1 week left to register!
2020 marks the 10th anniversary of National Seniors Day in Canada, but it also represents a much more solemn milestone.
More than 82% of COVID-19 related deaths are connected to long-term care homes—over 7,500 vulnerable residents have succumbed to the virus to date. More than just a statistic, this number represents real people with names and faces, and with important life stories that must be remembered.


With this in mind, CARP is hosting Canada's largest-ever virtual meeting of seniors (click here for event information) to talk about what happened and why, as well as how to protect our vulnerable older people in the coming months. Just as importantly, the event serves to remember those who lost their lives; not as statistics, but as parents, grandparents, teachers, mentors—real people who we failed to protect. A national Minute of Silence will serve as a powerful reminder that one death due to negligence in long-term care is one too many.

The free online event, comprising both a national and regional portion which will directly tackle seniors' issues in your part of Canada, brings together a panel of very special guests to explore critical topics affecting older adults and offers an empowering message of hope on this milestone occasion.
Event Details
Thursday October 1st, 2020


10 AM Pacific
11 AM Mountain
12 AM Central
1 PM Eastern
2 PM Atlantic
2:30 PM Newfoundland

Agenda
Subject to change
Welcome message from Prime Minister Justin Trudeau
Messages from Opposition Parties
Celebration of seniors with messages from Kurt Browning, Mary Walsh, Aislin, Haley Wickenheiser, Michael Pinball Clemons, Hazel McCallion and more.
Q&A with Federal Seniors Minister, The Honourable Deb Schulte.
Presentation by CARP Chief Policy Officer, Bill VanGorder
Minute of Silence and Reflection in honour of seniors killed by COVID-19 in long-term care
Is your CARP Membership up to date?
Not a Member? JOIN NOW
Copyright © 2020 CARP, All rights reserved.
Our mailing address is:
CARP
70 Jefferson Avenue
Toronto, ON M6K 1Y4
Canada